Welcome to the Slavic Department!
First established as the Department of Slavonic Languages in 1915 and redesigned as the Department of East European Languages in 1935, the Department of Slavic Languages embarked on its present trajectory in 1946, when a grant from the Rockefeller Foundation permitted the establishment of the Russian (now Harriman) Institute. Consequently, it was necessary for the Department to expand its language offerings. At present, the Department offers five Slavic languages— Bosnian-Croatian-Serbian, Czech, Polish, Russian, and Ukrainian.
On our website, you can find out more about our faculty, our students, and our undergraduate and graduate offerings in Russian, Ukrainian, Czech, Polish, and Bosnian/Croatian/Serbian languages, literatures, and cultures. Click here for a list of Spring 2021 courses conducted in English with no prerequisites, or check us out on Facebook.
April 05, 2021
On March 30, 2021, Yuri Shevchuk gave a zoom-talk "Language in the Contemporary Cinema of Ukraine" to students and faculty of the Media Communications Department of the National Karazin University (Kharkiv, Ukraine). He discussed a host of issues that are at the heart of the contemporary Ukrainian identity formation. They included: language as an attribute of national cinema, how Oleksander Dovzhenko, the founder of Ukrainian cinema, instrumentalized language as a tool of identity formation and decolonization, how various language codes (Russian, Ukrainian and surzhyk, i.e.
March 04, 2021
Alla has been generously serving ACTR on the Board of Directors since 2010. On the Board, she not only became active in recruiting new members but mentored them. Under her guidance as Chair of the ACTR National Post-Secondary Russian Scholar Laureate Award Program, new and veteran members of the Board enjoy serving the profession as they invite institutions to share the successes of students studying and learning Russian in the many post-secondary programs around the country.
March 01, 2021

Irina Reyfman (Professor and Chair, Dept. of Slavic Languages) has been recognized by AATSEEL (American Association of Teachers of Slavic and East European Languages) for her outstanding contribution to scholarship in the field.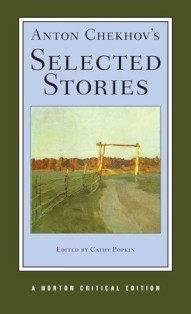 Anton Chekhov's Selected Stories
IRINA REYFMAN AND ANDREW KAHN TRANSLATE RADISHCHEV FOR THE RUSSIAN LIBRARY
Connecting Across Languages and Cultures: A Heritage Language Festschrift in Honor of Olga Kagan
Archive and the Boundaries of "Institutional Polymorphism" in Cultural Critique #107