Robert L. Belknap Dissertation Prize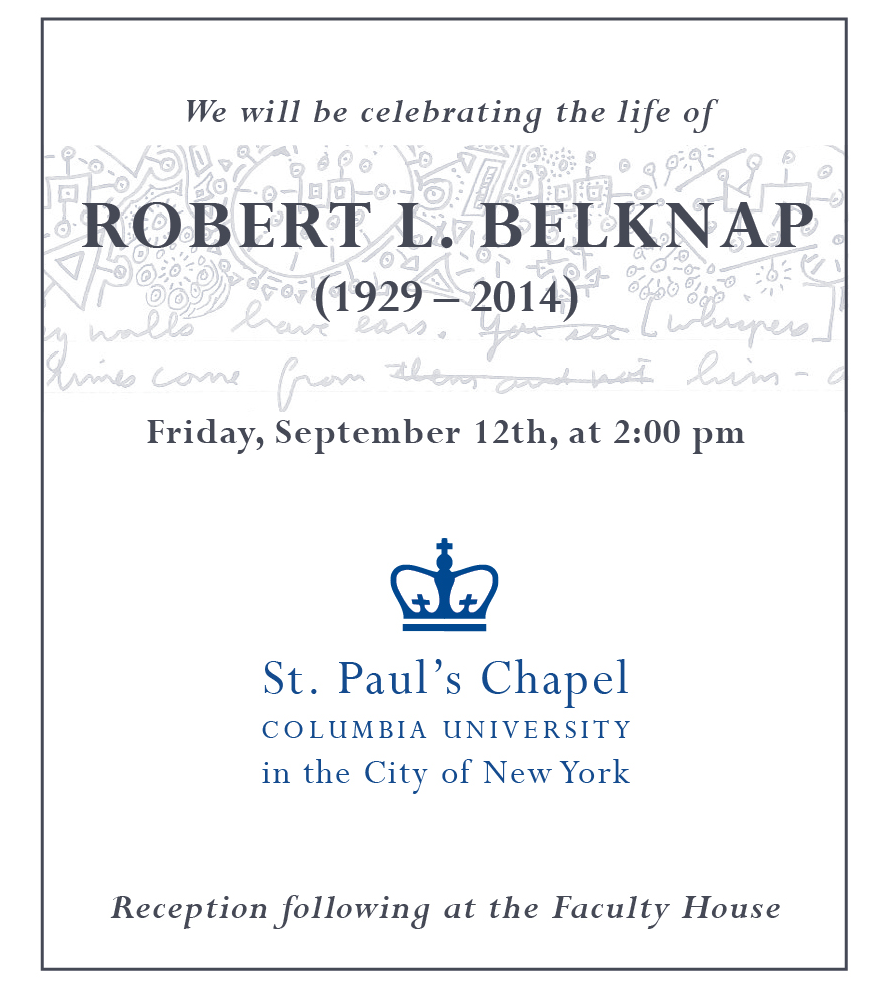 The Robert L. Belknap Dissertation Prize will be awarded as merited to dissertations in the Slavic Department that are of exceptional quality.  Himself a brilliant scholar, Bob Belknap promoted excellence in others.  To his students as well as to many other members of the field, he was a wise mentor, a pragmatic adviser, a perceptive critic, a trenchant editor, an erudite commentator, a scintillating interlocutor, and a true advocate.  We establish this prize to honor Bob Belknap for his work and to recognize dissertations of great distinction.  Donations toward the establishment of this prize may be sent to the Department of Slavic Languages, Columbia University,  1130 Amsterdam Avenue, Mail Code 2839, New York, NY 10027, attention: John Lacqua.  Checks should be made out to Columbia University with "Belknap Prize" in the memo line. You can also donate, online, using the following link:
Donate to the Robert L. Belknap Dissertation Prize
In memoriam Robert L. Belknap
Robert L. Belknap, Professor Emeritus of Russian in the Department of Slavic Languages, died on March 17.  Professor Belknap was a magisterial teacher of literature in true Columbia tradition, a guiding intellect and scholar in the field of Russian literature, a committed educator who devoted his energy and vision to making Columbia an institution to be proud of.  From start to finish, he was a man of integrity, wit, wisdom, and good will.  He will be sorely missed and fondly remembered by all who have had the honor of knowing him and learning from him. 
A native New Yorker, born December 23, 1929, Robert Belknap was educated at Princeton University, the University of Paris, Leningrad (now St. Petersburg) State University, and Columbia University (Ph.D. in Slavic Languages and Literatures, 1960). 
Robert Belknap was known the world over as an expert on Russian literature, on Dostoevsky, in particular.  He was the author of two major studies on Dostoevsky's masterpiece, The Brothers Karamazov:  The Structure of The Brothers Karamazov (1967, reprinted 1989) and The Genesis of the Brothers Karamazov (1992), which both appeared in Russian translation.  Literary Plots,based on the Leonard Hastings Schoff Memorial Lectures that Professor Belknap delivered in 2011, is forthcoming from Columbia University Press.  Together with Columbia colleague Richard Kuhns, Robert Belknap wrote Tradition and Innovation: General Education and the Reintegration of the University (1977), which reminds us that interdisciplinary understanding, tolerance, and humility are central to a whole—or, as they put it, reintegrated—university.  Indeed, one of Robert Belknap's special strengths was his ability to draw people from different disciplines together in a common intellectual enterprise.
The intellectual excitement that Robert Belknap generated in his classrooms is legendary.  His repertory ranged over the canon of Russian literature.  He taught Literature Humanities in the Columbia Core curriculum for over fifty years.  Students chose him for the Van Doren Great Teacher Award in 1980 and alumni chose him for the Society of Columbia Graduates Great Teacher Award in 2010.  He is justly known for the lasting impact he had on students—from first-year undergraduates in Literature Humanities to dissertation advisees.  Teaching Nineteenth-Century Russian Literature: Essays in Honor of Robert L. Belknap, a volume edited by Deborah A. Martinsen, Cathy Popkin, and Irina Reyfman, is a tribute to his profound influence on the academic field. 
Over the course of his career, Professor Belknap assumed leadership roles in a number of realms at Columbia: he served as the Chair of the Slavic Department, the Director of the Russian (now Harriman) Institute, the Acting Dean of Columbia College, the Chair of Literature Humanities, and the Director of the University Seminars.  As an administrator, he had a talent for getting the job done well and for creating a spirit of cooperation. 

Recipients:

2022
Milica Ilicic
"Joyful Sensibilities: Bakhtin's Polyphonic Aesthetics and the Ethics of Generosity"
2021
Erica Drennan
"Reading and Judging: Russian Literature on Trial"

2020
Eliza Rose
"PLEIN-AIR POLITICS: Labor as Means, Matter and Milieu for the Arts The People's Republic of Poland (1965-1981)."
2019
Robyn Jensen
"Double Exposure: Picturing the Self in Russian Emigre Culture"
2018
Bradley Gorski
"Authors of Success: Cultural Capitalism and Literary Evolution in Contemporary Russia"
2017
Michael M. Ossorgin
"Visual Polyphony: The Role of Vision in Dostoevsky's Poetics"
2016
Francisco Picon
"Bakhtin and Nabokov: The Dialogue that Never Was"
2015
Greta Matzner-Gore
"From the Corners of the Russian Novel: minor Characters in Gogol, Goncharov, Tolstoy and Dostoevsky"
Edward Tyerman
"The Search for an Anti-Imperial Poetics: Soviet Images of China, 1921-1935"